The setting up of the Coors Light cave in Dublin's IFSC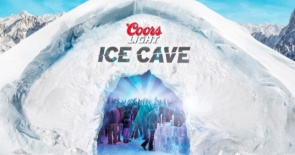 Challenges
The setting up of the Coors Light cave in Dublin's IFSC area provided a number of challenges. The ice cave needed to be set up on a pontoon on a basin off the river Liffey, with new weight restrictions on the key wall imposed and an under ground culvert which we were not allowed drive a crane over made the contract even more challenging.
Planning
After a number of meetings on site with all parties we decided to design a bridge that could take the weight of the heaviest crane that would have to cross over the culvert. The heaviest crane hire for this contract was a 90 ton Faun weighing 64 ton. The bridge was designed to carry 80 ton.
Implementation
In order to get the coors light specially designed containers onto the pontoon, a distance of 84m from the key wall we hired/supplied the following cranes for the contract, a Faun ATF90G-4 and a Liebherr LTM 1040-2. The basin was drained of water for the lift in and the 90 ton Faun lifted in the 40 ton Liebherr to the bed of the basin.
The containers were then lifted into the river basin bed and the 40 ton proceeded to move them across the and finally installing them on the pontoon for the erection of the ice cave.
When all was erected we had to lift the 40 ton Liebherr out of the basin again. The same procedure applied two weeks later after the festival was over.

Successful completion
The contract was complete with out any problems but with lifting the Liebherr crane weighing 27 ton and the containers weighing 10 ton in such a small busy area of the city safety was paramount for the whole operation. We had to employ a number of extra security to supervise the exclusion zone around the lift area.


At Kevin Keogh Cranes we offer a great range of crane hire options including mobile crane hire, mini crane hire, city crane hire, small crane hire and more. In addition, we also offer glass vacuum lifter hire and glass sucker hire services along with glass installation and glass lifting services. Haulage services are also available across Ireland. Contact us now for free advice and information.